It took me the big step of purchasing a car after years of being bike-only to realize that the entire area is plagued by pollen.  One day after washing the car, it's covered with a mutant green fur.  And after Sunday night's rain in Wellesley (among other places), the car looked like the aftermath of an alien splattering in Men in Black 2.  This explains why I always end up at work after a bike commute with my eyes feeling like I'd been hanging out with my pothead friends again.  Bad.  God bless 2nd generation antihistamines.
Sunday's Brookline Bike Parade was pretty sweet.  There's always a bit of a thrill when running a red light – running a dozen with the blessing of the cops on Beacon was just gravy.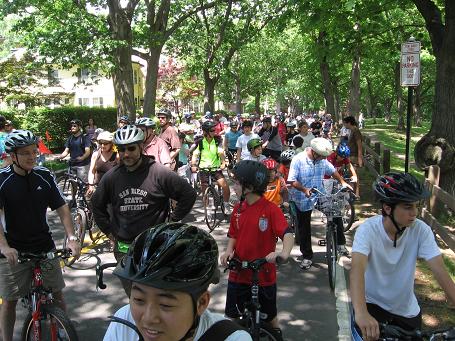 And gravy.  Too bad I didn't get pictures of the bike wrecks caused by kids weaving through traffic and inexplicably hitting the brakes.  That'll teach them to hold their line.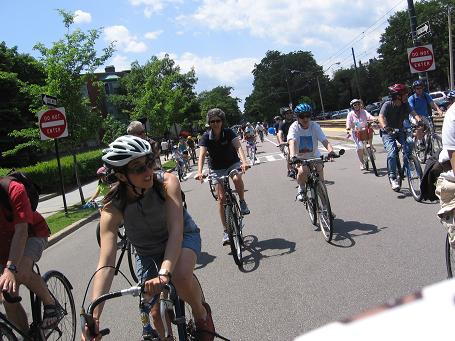 Also got to meet the owner of one of the cooler pieces of bike paraphernalia I've ever seen.  Turns out that I shouldn't have been so surprised that I'd find it at a Boston-area bike orgy.
Finally, my cycling friend and I decided that the parade was a bit too slow to call it a day, so we backtracked on Beacon Street to climb Summit Ave as a good complement to carnitas Super Burritos from Anna's Taqueria.  God must love Boston.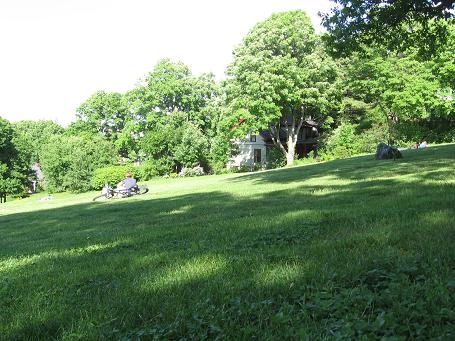 (Corey Hill:  It's hard to get perspective on sloped ground – the house helps)