Huffy Puffy
1) A sound emanating from the face due to poor fitness secondary to academia
2) A /Euro/ training method involving hill climbs on a 45-pound mass-produced monster
3) An LBS attitude subsequent to a repair request to said monster
4) Because every bike deserves to be ridden … by somebody
Hello, world.  After doing some soul-searching, I've decided that I am somewhere between "enthusiast" and "dilettante" with respect to my life on wheels.  That being said, I've managed to commute to school/work each day for the past seven years on the most beater-riffic of bikes:  five years on a 2002 Huffy Alpine, then the last two on a refurbished pink/purple 1996 Diamondback Topanga.  I am male.
The goal:  To commute on a bike that appears shitty enough to be unstealable in Cambridge/Providence/Dorchester.  So far, success.
From this humble throne, I've attempted a great deal of interpersonal cycling advocacy and have dabbled in the more formal varieties in Boston and its vassal states.  I fantasize about riding in a Critical Mass.  Unfortunately, good Republicans don't.
Most of all, I loathe becoming a *bike snob*.  Cycling excites me as it offers a level playing field:  independence, empowerment, exercise, and recreation to anyone willing to learn.  (And, for those who have quaffed the Kool-Ade, status).  In a city as compact as Boston is, cycling is faster and less expensive than taking public transportation – as long as your bike doesn't get stolen.
I often feel the glow of camaraderie at the sight of teen mobs roaming on tricked-out BMX bikes – even with their blatant disregard of traffic laws and decency.  On a battered department store bike, I'd blend into the happy environment of delinquency.  Unfortunately, my subsequent acquisition of legitimate bikes and participation in college-level racing may have put me on my way out of that salt-of-the-earth state.  Spandex begets snobbery.  But the memories of true "community" biking are still warm.
The following list of honor is a catalog of all the bikes that I've acquired – as far as I can remember.
1988: 1988 "BMX", blue with hard 12″ blue foam wheels, coaster brakes, training wheels. Dumped due to growth.
1991: 198x Ross Snapper 20″, yellow/red with coaster brakes. Dumped due to growth.
1994: 1994 Murray, blue with enormous bottom tube 24″, yellow front shocks. Stolen 1995.
1996: 1996 Huffy Enduro, black 24″ 18-speed thumbshifter. Sold 2005 in a yard sale.
2002: 2002 Huffy Alpine, gray/red 26″ 18-speed gripshift. Dumped 2008 after multiple-organ failure.
2007: 2007 Specialized Allez, 54cm black with 16-speed Sora.  IN SERVICE
2007: 1996 Diamondback Topanga, "amethyst swirl" (purple/pink) 17″ with 21-speed Alvio.  RESTORED, IN SERVICE
2008: 2002 Specialized Sirrus, metallic silver 50cm with 24-speed shifter. Sold 2008 to a friend – too small.
2008: 2001 Stumpjumper Pro, black with 27-speed Deore XT.  IN SERVICE
2009: 197x Schwinn Sprint, gray/red with 12-speed stem shifter.  Hobby restoration.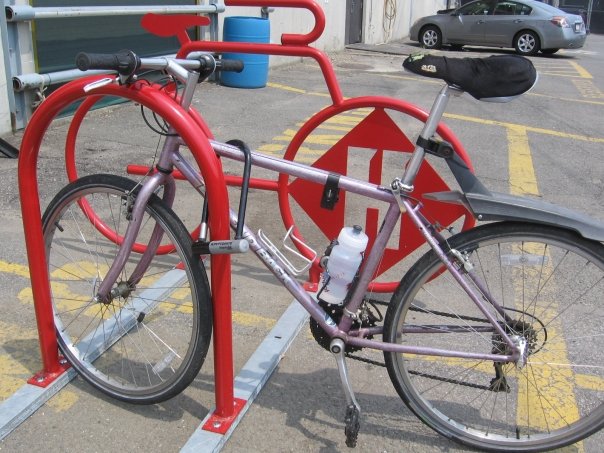 Dear Topanga gets drunk:  Harpoon brewery
There's a 1940s Elgin Airflow sitting in our basement, but that's not to be touched.
Photographs some other time.

1 Comment